Attacks:
Naruto's most commonly used attacks are
- Shadow Clone Jutsu: Because Naruto's immense amount of chakra(thanks to the Kyuubi) he can create practically thousands of clones of himself, each possessing his own abilities and strengths. However, these clones are not quite solid, and one well aimed punch can make them disappear in a cloud of smoke.
- Rasengan: This is possibly one of Naruto's most powerful moves. He focuses large amounts of wind chakra in his palm, and charges it at the opponent. This attack is powerful enough to leave a rather hefty dent in his opponents.
-Rasenshuriken: This ability allows Naruto to create four large points making the Rasengan appear as a giant shuriken, with the Rasengan in the center remaining a perfect sphere. The technique gives off a loud bell-like screech. When the Rasenshuriken hits a target, the victim becomes trapped in a giant vortex of microscopic wind-blades that attack the body on a cellular level. It produces so many individual strikes that even Kakashi Hatake is unable to count them all with his Sharingan eye. The wind chakra severs the chakra and nerve channels in the body, and if the chakra circulatory system is damaged, it can't be repaired by any form of medical ninjutsu. Not only is it capable of cutting through rock, but when a human is struck by it, its body is ripped to shreds.
- Kuchiyouse no jutsu: This is a summoning jutsu, which allows Naruto to summon huge toads/frogs from the summoning realm to assist him in battle. However, this jutsu can be unpredictable, as sometimes he may only summon a small toad, while other times, he may summon Gamabunta(the King Toad, who is HUGE)
- Naruto Rendan: The Nisen Rendan is a Ninjutsu technique utilized by Uzumaki Naruto. After using Tajuu Kage Bunshin(Shadow clone jutsu) to create an enormous amount of clones, Naruto will begin his normal Rendan combo, knocking his opponent into the air. Then the huge number of clones will come raining down, striking his target over 2,000 times.
- Sexy no Jutsu: This is a transformation jutsu, whereby Naruto changes his appearance in an instant, becoming a vulumptuous, naked woman.(However, small smoke clouds cover her more.. ehem.. Yes, well, where clouds are needed.) However, this jutsu is almost completely useless, unless he is attempting to shock/surprise/infatuate the opponent, it causes no damage to his opposition. ( Though they may spend a few precious seconds gawking xD)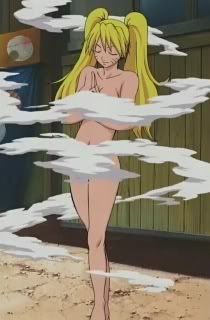 - Along with these, he sometimes( When emotionally prompted by either rage, or great sadness) realeases the Kyuubi. He uses thise ability when either his own chakra runs out, or the Kyuubi forcefully takes over. Depending on his rage, or the Kyuubi's own ability, there a multiple ways thise demon chakra can manifest(However, depending on the level of chakra used, it can have different effects on Naruto):
1 Tail: The Kyuubi will begin to take over by coating Naruto in its reddy-orange chakra cloak, which takes the general shape of a fox. (Meaning the cloak has ears, claws, and a long, fox-like tail). Naruto's own teeth also lengthen to become fangs, his nails grow and become pointed, the lines on his cheeks roughen and become thicker. His hair also seems messier and more ragged, and his eyes turn from bright blue to crimson, with a slitted pupil. In this form, Naruto becomes amazingly fast, and his chakra is immense. The Kyuubi's chakra 'cloak' also seems to have some sort of life of its own, and can make 'clawed arms' branch out. The Kyuubi's chakra will burn whatever it comes in contact with, as well as human skin. This form seems to not really affect Naruto, as when he reverts back to his normal self, he seems only slightly fatigued.
-
2 Tails: When Naruto gains a second tail, he is much the same as his first form. However, the more tails he gets, the more feral he becomes, as the Kyuubi starts to take over more of his mind. ( He looks exactly like the 1 tails form, except with two tails instead of 1)
4 Tails: When in this state, Naruto has become completely lost. As said in an episode, "He has become a miniature version of the Kyuubi,". By this stage, Naruto has lost all sense of his humanity, and will attack anything in his path. This form is particularly dangerous, and severely affects Naruto. When he becomes himself once more, he suffers from extreme burns(due to the Kyuubi's chakra) and fatigue. This form also shortens his life span.
6 Tails: Kyuubi is still completely in power. He gains immense power and speed, and is pretty terrifying.
8 Tails: By this time, Naruto has BECOME the Kyuubi, and the demon is pretty much unsealed. He has only ever come this far ONCE, and thankfully, the demon was resealed by the Yondaime, who had sealed some of his own spirit inside Naruto, should the demon ever be close to breaking free. If Naruto EVER come to this stage again, he will die, and the Kyuubi will be completely released.
- Along with these techniques, Naruto has basic ninja skills, e.g. He can walk on water, up vertical, non-stick surfaces, and run at an incredibly fast. He is also agile enough to bounce through tree branches, and has good endurance, as well as a high pain-tolerance. This is partially due to his training, as well as determination- Once Naruto sets his mind on something, he refuses to give in, no matter how hopeless the objective seems.
OKAY!~ So, I REALLY hope he's free - I took a small gander at the charactars in use, and he didn't LOOK like he was there, but ya' never know. I put plenty of effort into this bio, so I hope its good enough~! ^w^