Hello and welcome to G-Views, where SoL reigns supreme, moe is respected and Dokuro-chan sucks poopie. You know, G-View fans (As few of them as there are) may have noticed a trend in my reviews, I mostly enjoy reviewing the obscure and non-media frenzy shows, the ones that didn't get a stateside release to be exact and there's a reason for that, because I consider it kinda pointless to promote shows that almost everyone has already seen or heard about. Sure, I'll throw in a popular anime every now and then, but I really enjoy reviewing obscure shows that I'm almost certain noone here has heard about until reading my G-View. Don't worry, like I said, I will review more action/adventure anime in the future (Once I get to them of course), but for now, you're getting Plastic Little.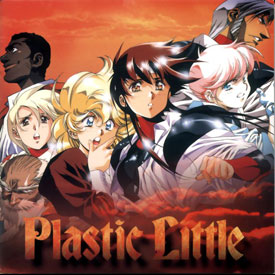 Number of episodes: 1 47 minute OVA.
G-Rating: 7/10
Genre: Action/Adventure, Sci-Fi.
Warning: This OVA contains scenes depicting uncensored topless women with some butt shots.
The main character of Plastic Little is Tita Mu Koshigaya, a young woman who captains a ship, the Cha-Cha Maru, whose business is capturing exotic creatures in the 'sea of clouds' of the planet Ietta, apparently a gas giant of some kind, and selling them to collectors and zoos. By chance, she saves Elysse Aldomordish, a young woman of her own age, from a rogue faction of Ietta's own military forces, led by the armored commander Guizel, who already killed Elysse's scientist father. As the military conducts a vicious chase for Elysse, it becomes apparent that she holds the key to a secret that could determine the fate of the entire planet's independence.
On the outside, this is a pretty generic movie about a teenage girl who combats the military who plan to use technology that would benefit the people in this world for their own nefarious purposes. In short, teenage heroine and her team vs a power hungry military force. Simple stuff. For most, this would be a bad thing, but to me, it works. If you can't wow me with something revolutionary, just use an old formula the right way instead.
The music is pretty much old school RPG format. Some good tunes and some bad ones. Simple stuff.
The animation uses what I like to call, "Crystal Smile" style. This means that whenever you look at the women smiling, it's like their faces are made of emeralds and diamonds or something, especially their eyes. It's like their faces are really shiny. As for the men, outside of Nichol who looks like a pretty boy and Roger who is a token anime black guy, the rest look like wrinkled adults, which is how they should look. The animation on the environment, action scenes and blood are decent for their age. This OVA was made in the 1990's after all.
The Characters are generic, in a good way. You've got the spunky teenage heroine, Tita, who wants to help the damsel in distress who is being chased by the military to further their schemes.
The damsel herself, Elysse, who is at first mistrusting of others because of what happened to her a week ago, who later opens up to everyone, especially Tita after she rescued her from the baddies. The old mechanic, the big guy type, the pretty boy who secretly has a crush on Tita, the black guy sidekick, the hot blonde, busty nurse, and the evil military, whose leader for some reason reminds me of High Priest Zagat from Magic Knight Rayearth (Must be the clothes). The cool thing however, is that even though the characters provide nothing new in their personalities, character development plays a huge role here. For example, the relationship between Tita and Elysse can be seen as something more, based on their conversations, There's also a form of family dynamic within the Pet Shop Hunters. The buff guy, Blaboa, is like a father figure to tita, Mei, the nurse is like a mom, and Mikhail, the old mechanic is obviously the grandfather, with Nichol and Roger probable being the brothers.
For some reason, this show reminds me of the Sega RPG: Skies of Arcadia for many reasons. It takes place in a city in the sky, there's a military group who are after a blond girl in distress, because she has the key to help them rule the world and we have a teenage Blue Rogue (In this OVA's case, a Pet Shop Hunter) who becomes the bad guys' #1 threat. For those who have never played Skies of Arcadia, skip this reference.
In conclusion: It's a short (Anime-wise) OVA that's definitely a fun watch and worth your tie if you have any to spare. This isn't a great movie, but it's definitely worth a look.