I
RedStorm is pretty popular on online readers but is rather under the radar because its not a traditional manga. The pages can be very long and intense to read. Currently it sits at over 200 chapters so it is not what i consider "light reading" but you can read the entirety of it in less than an afternoon because of how fast paced the story is. It just doesnt stop. The action scenes are astounding especially if you like massively powerful main characters. The setting is more persian than anything. And there are a few words that are definitely not romanized. But the translater does very good work.
Red Storm was first a novel before becoming a webtoon. Kyungchan Noh (노경찬), the author, had written a novel, titled by the same name, back in the year of 2006. It was later that this same novel became adapted into a webtoon, published by Daum, by the year of 2012.
It was published by Rok Media with over 300 pages for each of the 6 volumes released - containing of average 7 chapters each. It was later republished by In-Time Network, to be resurfaced, as an easily accessible online novel by March 2014.
As of yet, the Korean Novel has not been licensed into other languages.
A quick rundown of the plot so far.
The MC julian yulian or whatever you want to call him. as you first encounter him is the "young glow" or prince as it were, of a desert tribe. You follow him as he matures into a man meeting comrades as he works towards his goal. His dream to unite all the tribes of the desert. The first half of the plot touches on his master. The man who trains him to fight. It is mildly convoluted but his masters origins are rather irrelevant. He comes from "another world" and he is very much a joker in a deck of cards. Wildly more powerful than anyone else in the series. To the point not even gods demons or anything really can stand up to him. There is a minor subplot involving him discovering how he came to be in this world and why he is here at all. But the main story makes this a very minor subplot. The first half of the story is yulian as a child being trained by his master. Then it moves on rather quickly into him as a young man. Trained by effectivly god. And so he is vastly superior to those around him in combat. The story then moves on as he fully becomes a man and the prince of his tribe. Taking a wife. Fathering a kid. All the while he is still finding new and extraordinary things to learn. There is a war there are battles of noteworthyness. He then takes a journey outside his lands to discover even more from the much more european stylized "empire" learning all he can at their academy. He returns fully ready to assume his mantle of responsibility and lead his tribe.
All in all it is a true heros journey and coming of age told in a way that makes it rather unique.
Art style
As a webtoon the artist is rather open and very unlimited to the style his art can take. As such the blood and gore expected in mangas that deal with warriors and war is rather impressive in red storm.
The character models are really good as well. The artist starts out with a much rougher sketch style but refines it rather quickly. He also does not suffer detail where it is not needed. Simple every day conversations do not require fully fleshed out facial details and so his lack of detail in these scenes is rather good.
Click here to see full text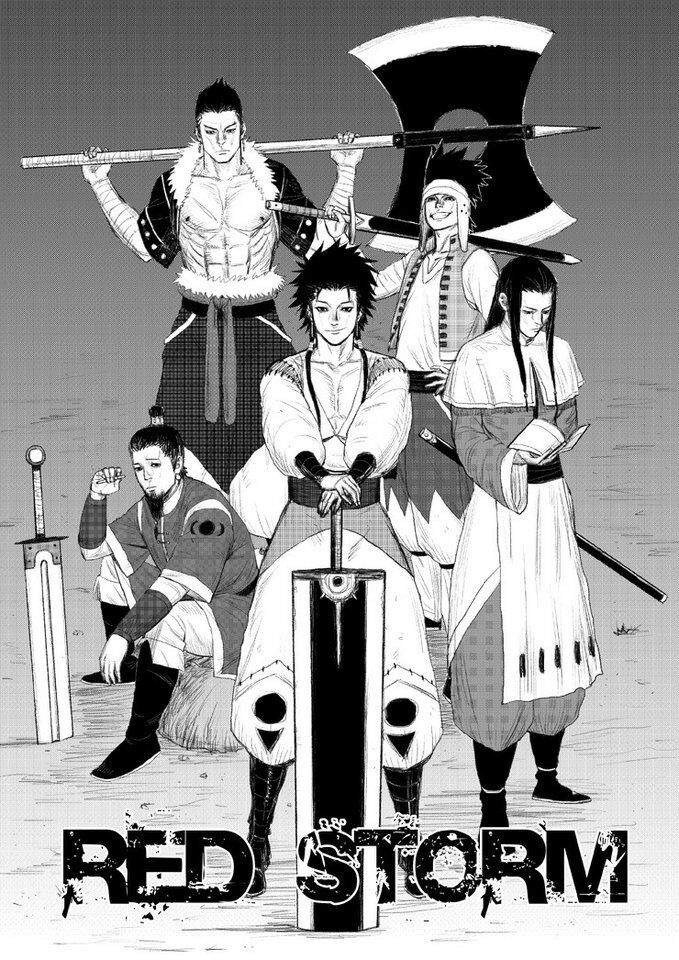 I highly recommend this manga to anyone. The story is not yet over and once you catch up you should definitely follow it to its end. The potential is amazing